SAVOURY
MENU SELECTION
French Butter Croissant
Traditional 3-day croissant with french butter.
Chicken Rendang
Rich, tender and aromatic shredded chicken infused with spice paste enveloped in a golden croissant topped with fresh lime leaves.
Signature Sambal Ikan Bilis
Our signature pastry. Sambal made from a rich blend of anchovies, belacan and chillies. Mildly spicy with a sweet caramelised wok hei texture.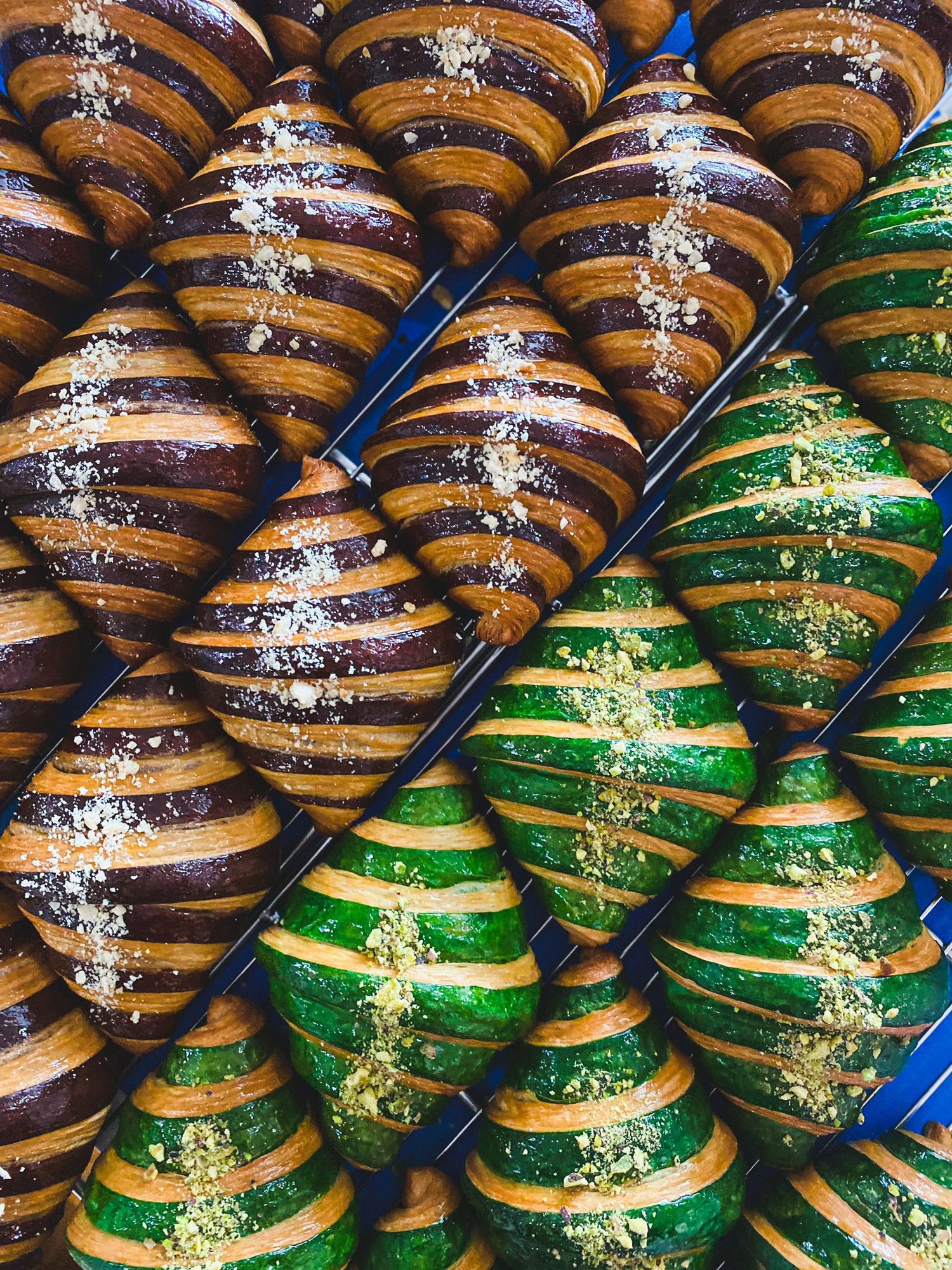 SWEET
Flan a la Pistache
Flakey pâte à croissant base with a creamy pistachio filling with a decadent pistachio praline biscuit layer.
Coffee Flan Feuilleté
Flakey cross-laminated puff pastry base with a crunchy hazelnut praline layer and topped with creamy coffee pastry cream.
Fleur de Framboise
Glazed croissant dough baked with strawberry confit, filled with pistachio crème patissiere, raspberry gel and topped with raspberry compote.
Hazelnut Chocolate (Gianduja)
Bi-colour crossant filled with a silky chocolate hazelnut ganache topped with hazelnut praline.
Pain au Chocolat
Puff pastry brioche baked with dark chocolate batons. A classic viennoiserie.
Vanilla Kouign amann
A French traditional pastry, laminated with butter, vanilla sugar and sea salt; baked until caramelised.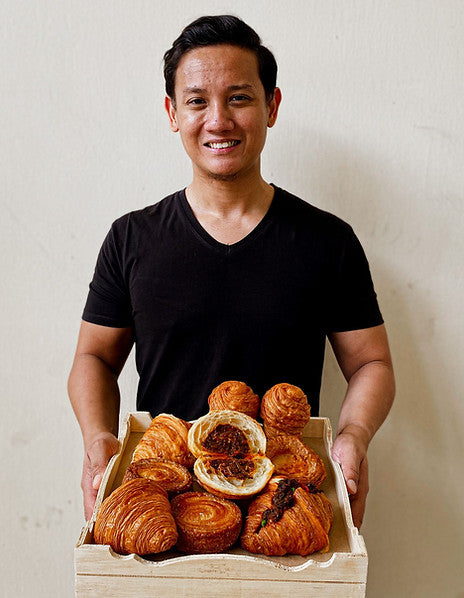 CAPTAIN ROTI BAKEHOUSE
ABOUT ME
Captain Roti Bakehouse is helmed by Fuad, a retired SAF captain, a father, and a cancer-survivor.
He has a love affair with food and pastries since he was little. Blending French techniques and flavours of his childhood and heritage, he dreams of creating good Halal bakes that everyone can enjoy.
Pastries are carefully hand-rolled through a 2.5 - 3 days process with premium halal ingredients, and are made in small batches to ensure consistency and quality. We take pride in the intricacy and detail in every laminated pastry with a hint of Asian flavour.
GENTLE NOTE
Delivery and Self - Collection Timings between 2pm to 6pm on bakesale days.
Free delivery for orders above $80. Minimum order of $20 for delivery.
To place an order:
Step 1
Select your choice of pastries.
Step 2
As soon as you have added the products into your cart, select your desired date of delivery or self-collection. Choose the link "Continue Shopping" if you'd like more! Proceed with Check Out if you'd like to continue with payment.
Step 3
You will now be taken to a new screen where you can enter your contact details, delivery method and address. This is done in a safe environment. Go through the 4 steps here:
- Step 1: Enter your address details.
- Step 2: Choose a shipping method (Minimum order of $20 for delivery)
- Step 3: Choose a payment method
- Step 4: Check your order. Pay now to confirm your order!